Master drawing the human head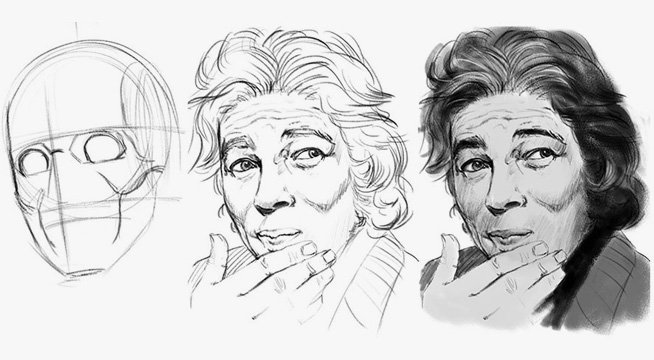 This course builds on the skills and information covered in the initial Analytical Figure Drawing course, as well as challenges students to push those skills through the introduction of additional subject matter of the human head. Students will be introduced to basic structures of the human head, underlying muscle groups and how they affect different forms of expression, structuring of different types of hair masses and rendering and at the end, creating a final well-constructed and fully rendered face.
Registration Period
Oct 12, 2023 - Jan 29, 2024
Course Start
Jan 26, 2024
Assignment
Due each week. Expect to spend 8-10 hrs/wk viewing lectures, Q&A, and time on assignments.
PREREQUISITES
Analytical Figure Drawing or a good command of form, perspective, and anatomy
MATERIALS
Homework can be done in any medium pencil and paper/ or on tablet/Photoshop
The more you know, the better.
Week #1
Head Construction and Abstraction
Explore different angles and shapes of the head. We will create orthographic views of the head, breaking down key elements and landmarks to help plot out the beginnings of your facial and head structure.
Week #2
Skull Construction
Demonstrations of how to break down the structure of the skull and portray it anatomically correct in multiple views. We will also go over interpreted lighting and volumes to help express depth, direction, and other important features carried on in the expressions of the face later.
We will cover basic muscle groups of the head including abstractions of muscle groups from various angles. Using interpretive lighting, we will help plot volume and shape in accordance with the angle and position of the head.
This week will focus on covering the shape design of each facial feature and structure of the face. This will be a non-cartoony approach.
Head shapes are different for each part of your age, and on top of that, gender. We will be going over baby heads, young child heads, all the way to old adult heads. There will be demonstrations on how to add subtle exaggerations and nuances based on younger or older, masculine or feminine structures.
Week #6
Facial Expressions
This week will be focusing on expressions and the muscles that activate them. We will focus on anger, fear, disgust and sadness expressions.
Week #7
Expressions & Hair
This week will be focusing on expressions and the muscles that activate them. We will focus on happy, surprised, and joyful expressions, as well as hair.
Week #8
Rendering & Lighting the Head
Focus on how to finish a drawing. Take all previous week's information and combine them together to render a final image. Discuss what it is to take a drawing to its final stage by analyzing the works of other artists and how they handle details. Finally see how values show form for the human head.
STUDENT GALLERY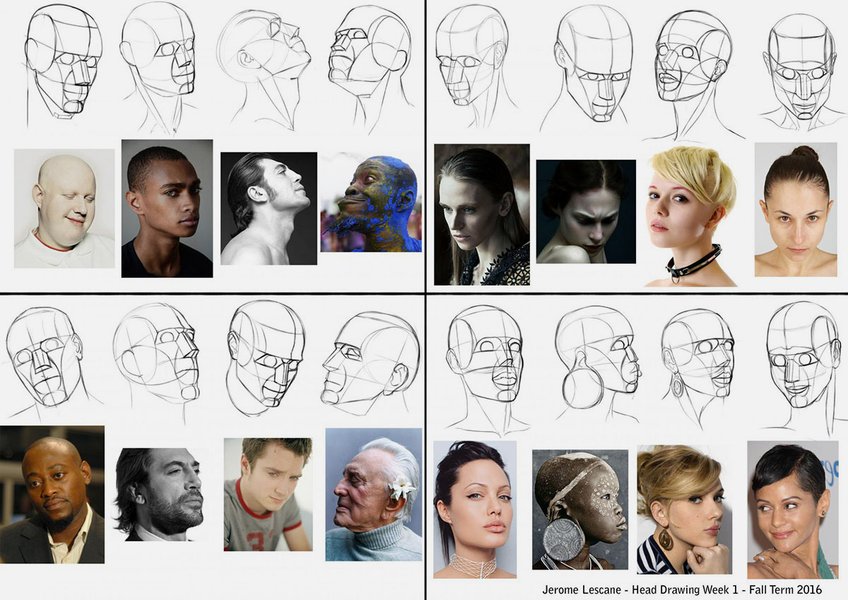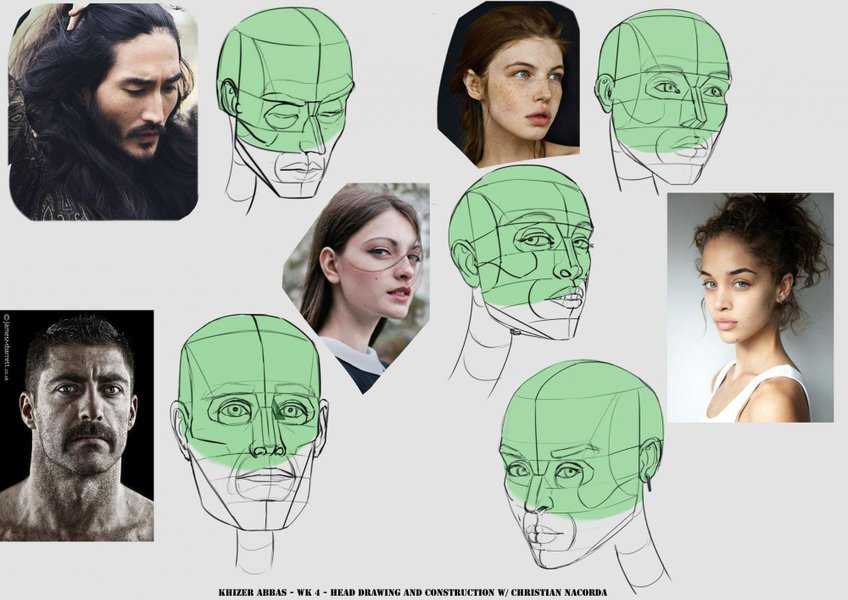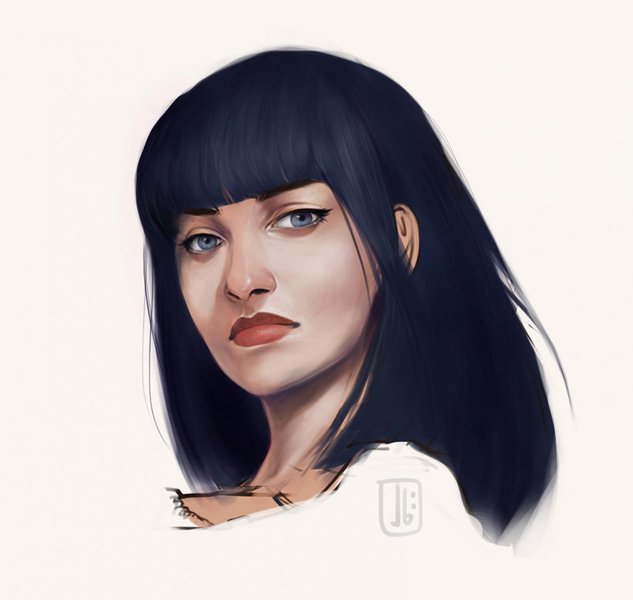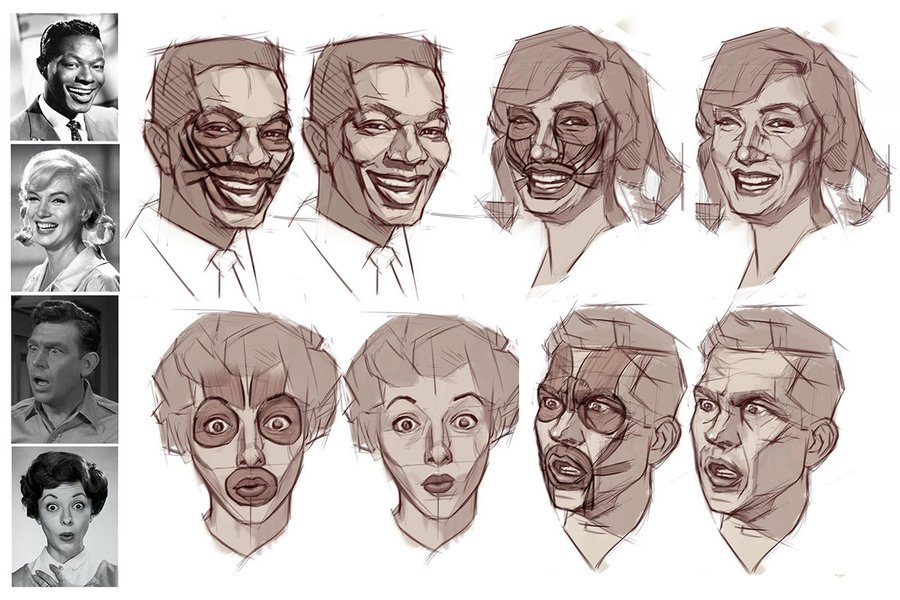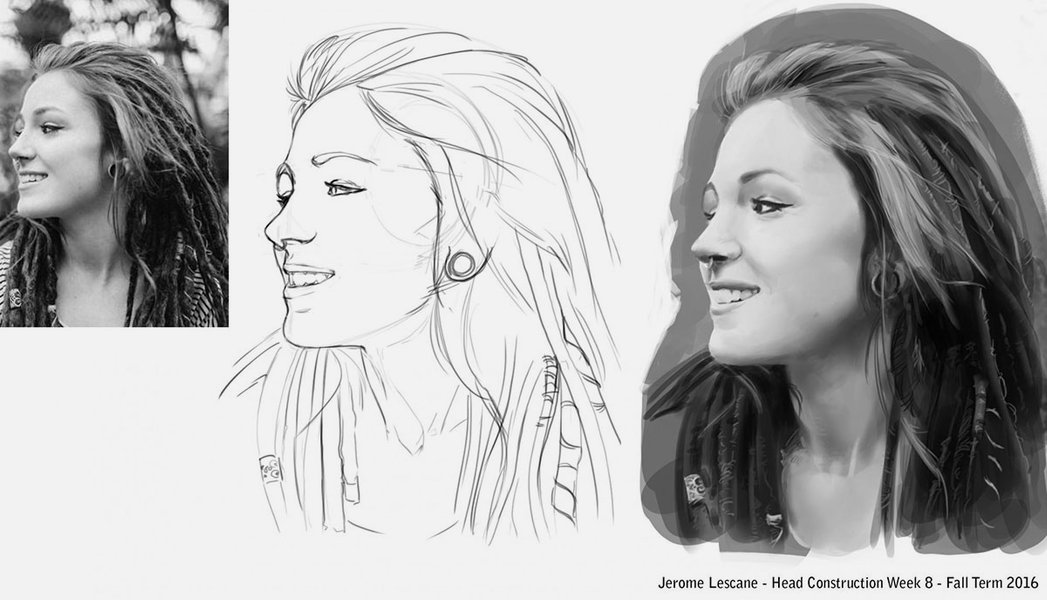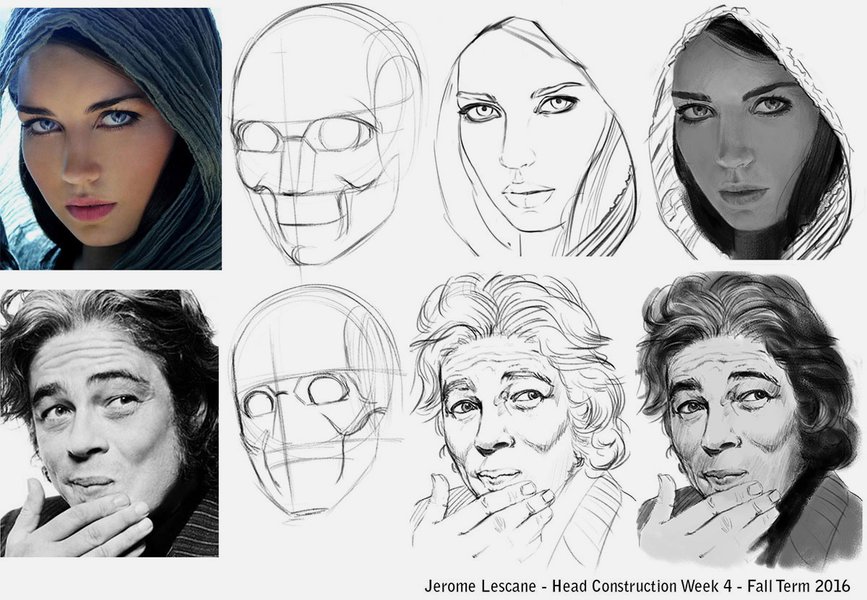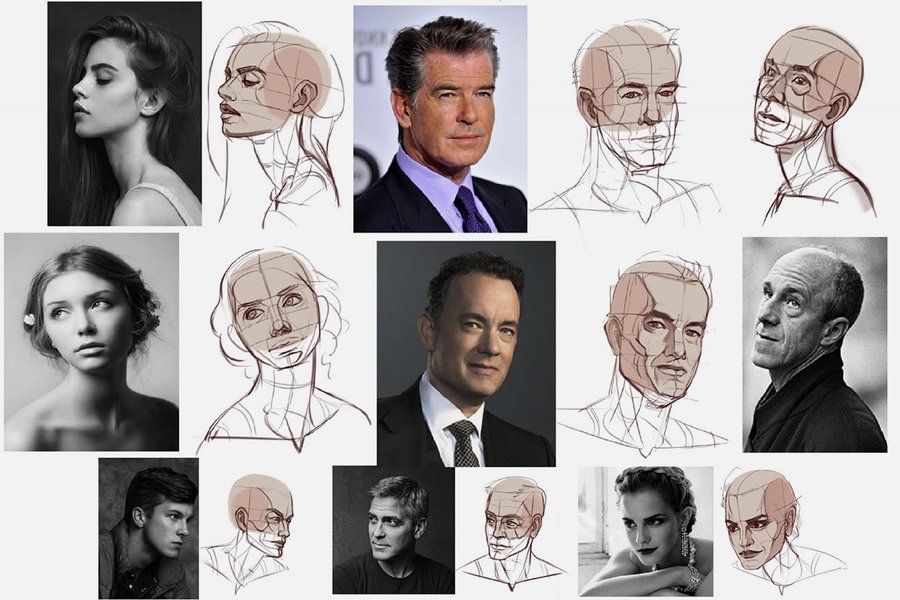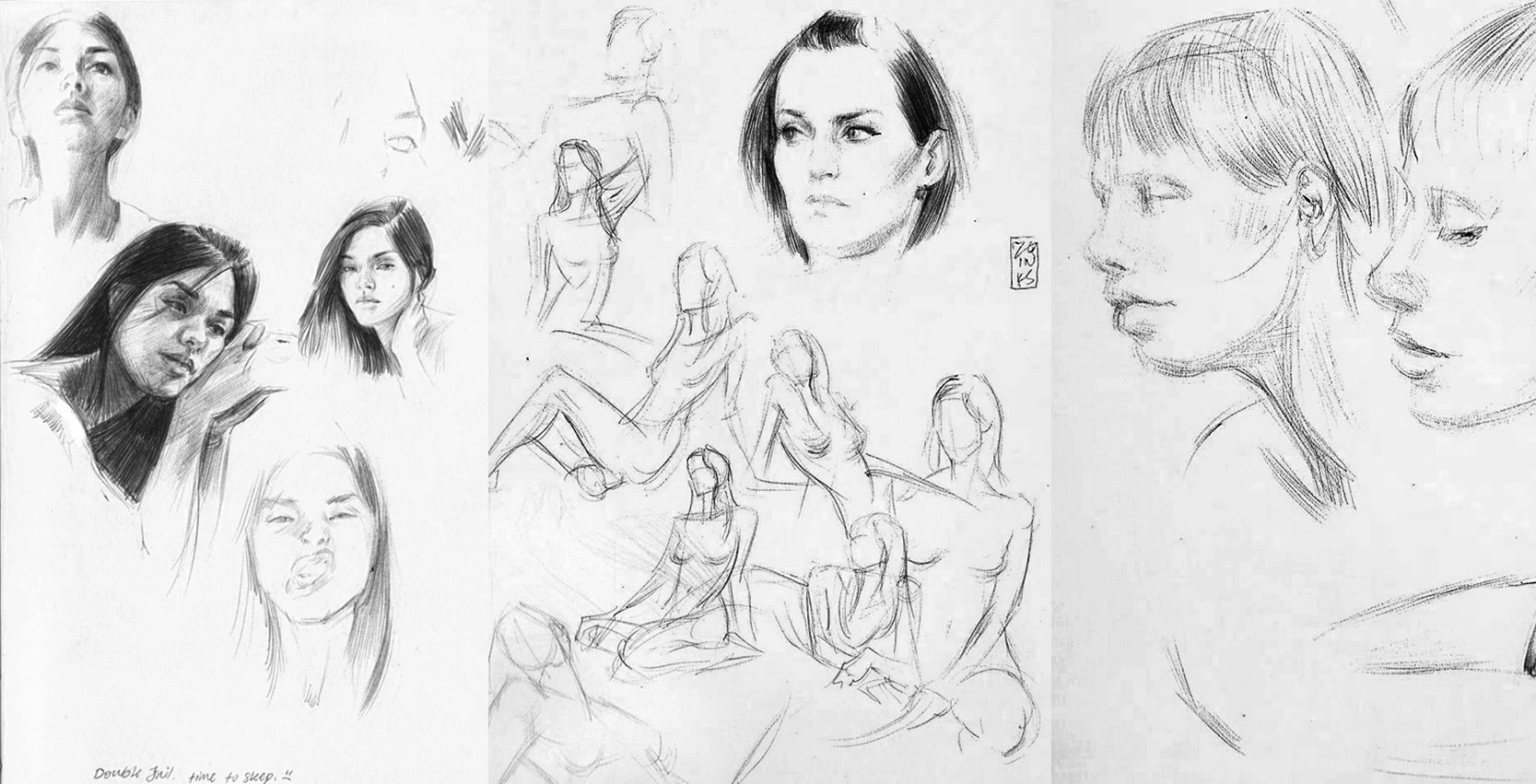 Concept Artist and Instructor
Course Start: Jan 26, 2024
Christian Nacorda is a concept artist, sculptor, and instructor starting teaching in 2005 Art Institute Orange County, He currently teaches at Art Institute Inland Empire and Norco College. Previously held a position of a sculptor at Atomic Monkey working on various titles such as Simpsons, Family Guy, Uncharted, Halo, Bioshock, Chicken Little, and Meet the Robinsons.
Instructor's Gallery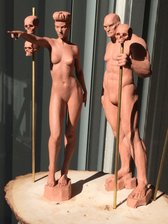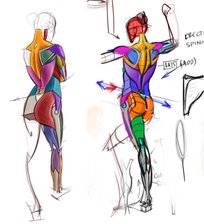 Illustrator and Character Artist
Course Start: Jan 22, 2024
Mandy is a freelance illustrator and character artist specializing in portraiture, currently living in the Bay Area. In the past, she has contracted with various companies such as Volta, THQ, Adobe, and Celsys. She's currently working on projects for Wizards of the Coast, as well as an unannounced IP. Her work places an emphasis on the workings of color and light, as well as the emotional fidelity of her characters.
Instructor's Gallery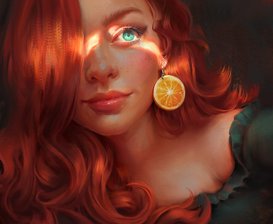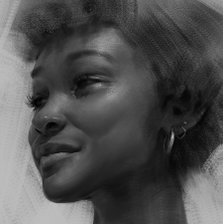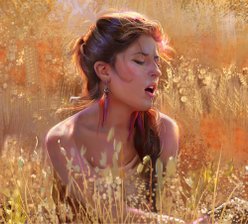 PRICING SCHEDULE
Even though our courses are the most affordable for the quality of education, these finance options allow you to focus on your goals instead of the barriers that keep you from reaching them.
Winter TERM REGISTRATION
Now Open
Oct 12, 2023 - Jan 29, 2024
COURSE BEGINS on Jan 26, 2024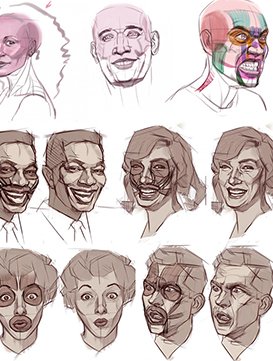 What makes this learning experience unique?
PERSONALIZED FEEDBACK
Receive personalized feedback on all assignments from the industry's top professionals.
LIFETIME ACCESS
Enjoy lifetime access to the spectrum of course content, including lectures, live Q&As, and feedback sessions.
CERTIFICATION
Show off your Certification of Completion when you turn in 80% of course assignments.
FLEXIBLE LEARNING
Learn anywhere, anytime, and at your own pace with flexible, online course scheduling.
Testimonials
He is a very personable guy—his spirit makes learning this content fun. He is good at not only finding the students faults, but also remembering to point out the things the student has done well.
Ulina
He has a great personality that shines through in the lectures. His lectures are always funny, interesting, and informative. I enjoyed watching all of the videos and participating in the live Q&As.
Amy
My instructor was incredible, one of the best teachers I've ever had in my life—I want to take all of his classes! He has been such a fantastic help to my growth as an artist.
Adele
Great teacher and always made the class enjoyable.
Angie
Christian was a great instructor.
Matej
Really good at explaining difficult concepts and was really nice to everyone.
Jonah
My understanding of the human face, and rendering skills have improved massively thanks to this course
Owen
Need guidance? We're Here to Help.
We can help with admissions questions, portfolio review/course recommendations!
What are you interested in?